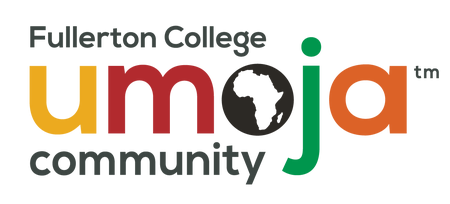 Fullerton College Umoja Community Program: A Wholistic Student Support Service
---
Fall 2023 Umoja Application will open on Monday, April 3, 2023.
---
Program Requirements: Remain an active Umoja Scholar by completing our requirements per semester
Meet with an Umoja Academic Counselor once a semester; and
Attend at least TWO program activities (workshops, events, and/or Porch Talks) per semester.
---
Events!
March Event Schedule
March 17th: Game Night, 4-5 PM via Zoom
March 29th: Porch Talk, 3-4 PM via Zoom
---
Book an Appointment!
Personal Therapy: To schedule an appointment with a mental health professional at Behavioral Health Services, please call (714) 992-7093.
---
Services and Resources
---
Campus Resources
---
Additional Resources
---
Communication
Add [email protected] to your email contacts to avoid receiving our important updates in your spam folder.
---
About us!